We are meeting weekly for our indoor services at New Life Church!
We are in our Phase 1 during quarantine.

Sunday mornings @10:30AM
Online services Sunday @10:30AM and 6PM, Tuesday @6PM
Thank you for continuing to wear your mask at our indoor service!
Read entire message from Pastor Dave: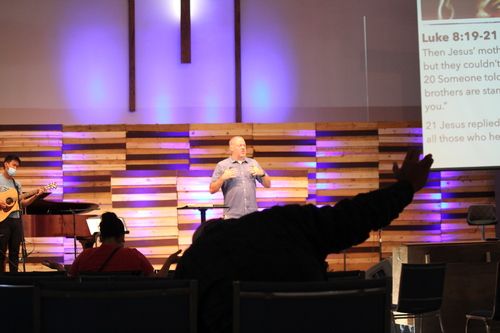 Live worship with our rocking worship band and listen to an outstanding message from Pastor Dave.
Join us afterwards for fellowship and conversations with one another.

Life Groups in the morning occur on Zoom. Learn more about the Life Groups happening on Sundays!
Watch the service online. Use the link below and join us in worship.
There are opportunities for prayer requests, group chats, and responding to the message.
Arabic church of the nazarene @ 6:00pm
Located at New Life Church, the Arabic Church of the Nazarene meets @ 6:00PM every week.
However, during COVID-19, they are not current meeting in person.
Contact Pastor Nabeel David for information about online church.
Email: pastornabeeldavid@gmail.com